A forensic analysis of Maradona's 2001 testimonial: Higuita, Riquelme…
Nostalgia
In 2001, four years after his retirement, Diego Maradona was honoured with a testimonial match: Argentina versus a World XI. It was farcical but entertaining.
Testimonials. Celebrity games for charity. 'Legends' tournaments. Football is more nostalgic than ever, and 40-something ex-pros are finding themselves with schedules no less crammed than those of their younger, non-retired counterparts.
Gone are the days when it was rare to see an ageing legend don their old kit. Today, footballers are only ever semi-retired.
What's more, ex-pros tend to take these kickabouts quite seriously. Certainly, there will be smiles and silly celebrations when the goals go flying in past Jamie Theakston, but the competitive edge remains — and even appears to be growing.
During Andrea Pirlo's star-studded testimonial in May 2018, the hunger of a 44-year-old Filippo Inzaghi was evidently still there as the Italian threw himself into goalscoring positions. As recently as January 2019, Jason McAteer was red-carded in a 'Star Sixes' tournament after clashing with Michael Owen.
And then there's Jonathan Wilkes — his face stern, his celebrity qualifications long forgotten — taking things much too seriously in 'Soccer Aid'. The contagious winning mentality infects even the amateurs.
Given the abundant (and sometimes excessive) competitiveness of today's exhibition matches, it feels strange to revisit Diego Maradona's 2001 testimonial match.
Because while there is some passion, skill and determination on show, there is also a generous dollop of fakery, joking around and basically doing everything in one's power to let the opposition score.
At times, Maradona's big shebang has more in common with scripted wrestling than football. Were it a competitive fixture, it would surely be investigated for match-fixing.
Below is an incident-by-incident recap of Argentina versus World XI, November 10, 2001.
Pre-match
November 2001. Diego Maradona is 41 years old, a little overweight and fresh from knee surgery. He is four years retired.
Today, Maradona defies the odds.
"I want the people of Argentina to know that I will not break that easily," he says. "I won't die like that."
The testimonial, played at Boca Juniors' stadium, is a chance for the Hand of God to wave goodbye to 50,000 adoring fans… and Pele, who is also in the stands.
"I worked hard all my life for this," Maradona adds. "Those who say I don't deserve anything, that it all came easy, can kiss my arse."
Starting lineups
Argentina: German Burgos; Javier Zanetti, Roberto Ayala, Walter Samuel, Juan Pablo Sorin; Matias Almeyda, Juan Veron, Diego Maradona, Pablo Aimar; Claudio Lopez, Kily Gonzalez.
World XI: Oscar Cordoba; Ciro Ferrara, Jorge Bermudez, Ivan Cordoba, Carlos Gamarra; Nolberto Solano, Juan Roman Riquelme, Carlos Valderrama, Enzo Francescoli; Hristo Stoichkov, Davor Suker.
First half
15' SHIRKED TACKLE Riquelme
There's an early indication that this match may not be played in the spirit of the game.
In midfield for the World XI is Juan Roman Riquelme, an undercover Argentine, and his commitment to the otherwise non-Argentine World XI is minimal.
Here, the playmaker should be dispatching Maradona with ease; instead, he passes to him.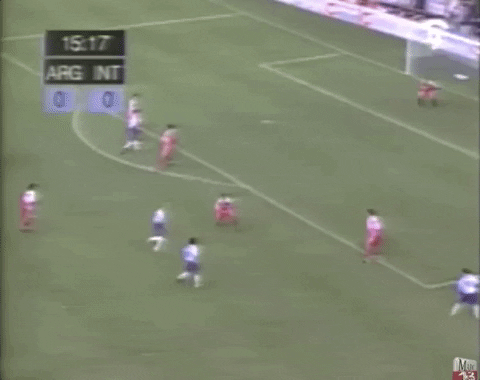 16' GOAL Claudio Lopez (1-0)
Less than a minute later, Lazio's Claudio Lopez opens the scoring with a powerful header. His nickname, 'Piojo', means 'louse', which is horrible.
Nothing horrible about this goal, though, assisted by a fine cross from Javier Zanetti.
29' GOAL Suker (1-1)
33-year-old Davor Suker, fresh from a forgettable spell in England, gets an equaliser for the World XI. The Croatian has now scored half as many goals for this made-up team as he did for West Ham.
Second half
48' GOAL Aimar (2-1)
A good goal!
At this point in his career, Pablo Aimar was hot property, a genuine contender to be the 'next Maradona'. Played in by the old Maradona, Aimar finds the corner of the net before giving the assister a hug.
61' GOAL (P) Maradona (3-1)
Back to total farce.
Colombian defender Jorge Bermudez makes a rash challenge on Julio Cruz, inside the box, knowing exactly what the outcome will be.
At this point, Rene Higuita has come on for the World XI, and the eccentric Colombian goalkeeper has some words for Maradona, who will obviously take the penalty.
This moment is arguably the highlight of the match because it's unclear whether Higuita — who is evidently irritating Maradona — is trying to deploy mind games, or just telling his opponent which way he plans to dive.
Though it's easy to imagine either situation winding up the Argentine, Higuita's weak attempt suggests the latter.
Maradona proceeds to remove his Argentina shirt, underneath which we see… a dark blue Boca Juniors shirt!
It's a nice gesture, but the historical average temperature for November 10 in Buenos Aires is 22°C, which is warm enough to make you question whether this decision, given the player's fitness issues, was a good one.
No wonder he hasn't been sprinting.
Bermúdez, the offending World XI player, then smiles and embraces Maradona, which seems suspicious.
64′ SCORPION KICK Higuita
It's Maradona versus Higuita again, and not for the last time today.
The 'mad' keeper saves Maradona's weak long-range shot — the only way he knows how: by backheeling it, two-footed, above his own head.
It's a poor impression of his most famous scorpion kick, but it gets a cheer nonetheless.
A hard-fought game, this.
75' GOAL Castroman (4-1)
A short corner from Maradona eventually finds Lazio's Lucas Castroman — one of many alice-banded players in sky blue — whose shot beats a static Higuita.
77' GOAL Cantona (4-2)
The worst thing about this goal is how 31-year-old Eduardo Berizzo, who has replaced Walter Samuel in defence, appears to intentionally avoid the ball.
Even at 34, Eric Cantona doesn't need favours from a Celta Vigo nobody with 13 caps.
The Frenchman hammers it home, and Maradona — aware of the staged nature of the match but simultaneously forcing himself to believe otherwise — appears genuinely aggrieved.
87' GOAL Aimar (5-2)
There's simply not enough closing down here.
But while the World XI back off Maradona and respectfully avoid his pass, Aimar still makes this look a decent (and almost organic) goal, jinking past Higuita and slotting home.
89' GOAL (P) Higuita (5-3)
A handball! A suspect handball!
Again, Maradona seems less entertained than other players by this scandal. Or perhaps he is insisting that Higuita takes the spot kick. It's hard to tell.
Either way, the Colombian keeper beats Pablo Cavallero, sort of stealing the show from Maradona.
90' GOAL (P) Maradona (6-3)
Come on now.
Nolberto bloody Solano, the polite Peruvian, chops down Kily Gonzalez, providing the game with its third penalty.
Maradona puts it the same way as his first, beating Higuita for a second time, and the game is brought to a close.
There's a bittersweet element here, though. Cheering on the Argentine legend from the touchline, a look of pure delight on his face, is the now-substituted Javier Zanetti.
Little does he know that, nine years from now, Maradona will drop him from Argentina's 2010 World Cup squad, even after he has captained Inter to a domestic and European treble.
Maybe he is actually yelling something offensive, though you'd suspect otherwise.
Riquelme, too, would surely not have expected his first-half favour to Maradona — that infamous shirked tackle — to be rewarded with international exile during Diego's reign of terror.
"What have I done for [Riquelme] to be scared of me?" a bullish Maradona will ask. "If I can't say how I want my players to play, then I'm in the oven."
The same goes for opposition players, apparently.
Post-match
Five of the game's nine goals have effectively been shepherded into the net by opposition players, which is frankly unacceptable, even under circumstances such as these.
"I'm never going to forget this," Maradona says after the match. "It was an incredible experience — I could never have expected so much."
But the tributes go even further. The Argentine football association vows to retire Maradona's number 10 jersey, and a proud Maradona says it is his "greatest dream" to "own" the number for eternity.
Alas, it is not to be.
FIFA intervenes, telling Argentina that it must register players with consecutive numbers, including a No.10, for tournaments like the World Cup. Ariel Ortega dons the shirt less than a year later.
It is, like the testimonial itself, a suitably bizarre way for Maradona to bow out.
---
El Diez y EL 10: The curious relationship between Maradona and Riquelme
16 of the best quotes on Diego Maradona: 'The greatest of all time'
Diego Maradona the manager: When Argentina was ruled by the hand of God
Five players who definitely weren't legends but played in legends games
---
---