When Real Madrid were awarded the most ridiculous penalty ever
Nostalgia
The 1960 European Cup final is remembered as the crowning glory of arguably the greatest club side in the history of football. No fewer than 127,000 people crammed into Hampden Park and were treated to 10 goals as Real Madrid put Eintracht Frankfurt to the sword.
Lining up with Ferenc Puskas and Alfredo Di Stefano, Los Blancos lived up to their legendary billing in front of one of the largest crowds ever assembled for a sporting event.
Needless to say, football was a different game back then. Both sides lined up in 3-2-4-1 formations, more or less approximating Herbert Chapman's WM formation. Real Madrid registered a pass completion rate of just 69% while Frankfurt completed just 61% of theirs.
It was frantic and astonishingly direct when viewed through a modern lens. When either side picked up the ball, the idea was to drive at the opposition's goal as quickly as possible. When data firm StatsBomb went back and analysed it, they counted 42 attempts in total and a mammoth 4.55xG for Madrid.
No wonder Madrid scored seven goals on the night, with Puskas scoring four and Di Stefano notching three, as Madrid made it five-in-a-row with a famous 7-3 victory in Scotland.
Ask your dad or granddad and they'll most likely regale you with tales of how in the good old days referees allowed a lot more to go as teams were given license to kick lumps out of one another. Red and yellow cards weren't even introduced to the sport until the 1970 World Cup.
At this time, Pele was turning out for Santos and getting kicked from pillar to post as he established himself as one of the greatest players in the world.
The game might have been more physical back then, but the threshold for giving a free-kick or penalty was actually a lot lower than you might have thought.
"To the modern eye, some of the fouls called in this match looked very soft indeed," noted StatsBomb in their 2020 retrospective of the 1960 final. "The standard for what was considered an obstruction was obviously much lower at the time."
You won't see better evidence of that than the spot-kick Madrid were awarded just before the hour mark.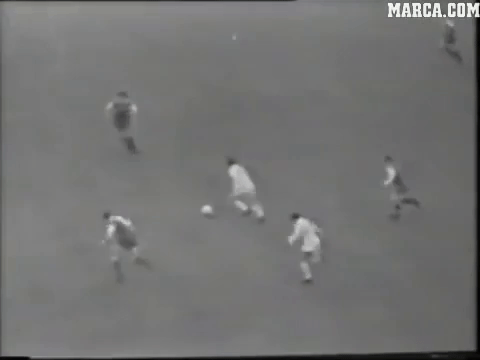 Yes, that's really it.
Frankfurt captain Hans Weilbacher barely brushes Francisco Gento as he cuts across to shepherd the ball to safety. Indeed, if there was any contact it was outside the box. Gento doesn't even tumble to the ground and barely seems to appeal before Francisco Gento decides to consult his linesman and point to the spot.
Were it given today, you imagine it'd cause a tidal wave of pulmonary embolisms across commentary boxes and pundit studios across the country.
The history books say M*drid has won more than twice as many European Cups than any other club.

They don't say how they were won. pic.twitter.com/gRjGJcTav7

— ᑳarçalεv (@Barsalev) April 12, 2018
Perhaps a little sheepish about how the penalty came about, Madrid omit the incident from their YouTube highlights reel.
It's a decision so ludicrous, so scandalous, that it's a surprise it's largely been forgotten. Little more than an afterthought from one of the most famous matches in history.
Occasionally it will do the rounds on social media from particularly partisan Barcelona fans, offering it up as Exhibit A of the grand conspiracy that favours Madrid and renders their successes illegitimate.
Ultimately the reason the incident hasn't stood the test of time as a moment of footballing infamy is because it was pretty much inconsequential. It might have been a different story if it proved decisive in a marginal result, like Maradona's handball or the decisions that went Bayern Munich's way in the 1975 European Cup final against Leeds.
Madrid would have lifted the cup at Hampden regardless. Puskas' spot-kick put Madrid 5-1 up on the night and they eventually built up a six-goal lead before the Bundesliga side fought back with two late consolations.
It's probably for the best that the decision mattered little, because it would have been one of football's great injustices had it cost Frankfurt.
---
READ NEXT: The last six players to score a hat-trick in El Clasico: Benzema, Messi…
TRY A QUIZ: Can you name Real Madrid's XI from the 2014 Champions League final?
---
---