11 things we loved this weekend: Keita, Nketiah, Messi, Batshuayi & more
Quick Reads
A comical moment for an Arsenal youngster, an impressive display from a future Liverpool midfielder, plus goals from a Chelsea loanee and Manchester United outcast all made us smile this weekend.
It was a strange weekend in England as fixtures took place in both the FA Cup and Premier League.
Thankfully, there was also plenty of football played on the continent ahead of the upcoming international break.
Eddie Nketiah
The Arsenal youngster is still finding himself starstruck now he is in the first team.
Patrick Cutrone
Cutrone had a tense wait to see whether his potential equaliser had been allowed by VAR in Milan's clash with Chievo. It's safe to say he enjoyed it being given the green light.
Naby Keita
Keita had Liverpool fans salivating once again with a goal and an assist as RB Leipzig inflicted a first defeat in 19 matches on Bayern Munich this weekend.
This Newcastle fan
Emmanuel Adebayor
Adebayor may not be known for his work-rate, but he showed some gas to track down a flying Jeremain Lens.
Lionel Messi
We're not sure what this little dance is all about – but we like it.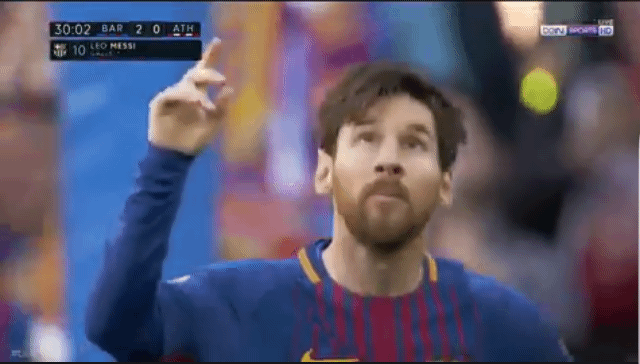 Memphis Depay
The former Manchester United man is back scoring late winners in big games for Lyon, which means you should probably read Tom Victor on the folly of writing the forward off as having 'found his level'.
Michy Batshuayi
The on-loan Chelsea man can't stop scoring since joining Borussia Dortmund, taking his tally to eight in 11 matches with a backheeled winner against Hannover.
Cristiano Ronaldo
Considering Ronaldo had a slow start to the season (by his own ludicrous standards), it completely passed us by that he is now the top goalscorer in Europe's top five leagues across all competitions this season.
Seventeen goals in your past eight games will do that, we guess.
Jack Stephens
Poor Stephens got more than he bargained for when he celebrated Pierre-Emile Hojbjerg's opener in Southampton's quarter-final win at Wigan.
Watch: Pierre-Emile Hojbjerg kicks team-mate in b*llocks celebrating goal
A-League
Australia's A-League met Sunday league this weekend as Melbourne Victory's players had to give each other a boost to fix a broken net.
Watch: Comical moment A-League players have to fix net with gaffer tape
---
Roberto Firmino's no-look finishes are exactly the arrogance football needs
I tried to understand John Fashanu by watching his fitness DVD
Watch: Pierre Emile-Hojbjerg kicks team-mate in b*llocks celebrating goal
How many of these 10 footballers from the 90s can you name?
---
---