13 of the greatest football photos of 2018-19 ft. Man Utd, Leeds, Spurs…
Quick Reads
As the dust settles on one of the tightest Premier League title battles in recent memory, it's time to look back at something which will live even longer in the memory.
As the saying goes, "take a picture, it'll last longer". Well, thankfully plenty of folks were on hand to capture some of the more memorable moments of the season.
We've included a few of our favourites here, but it's very much a work in progress so let us know any we've missed.
Mourinho on the way down
Chelsea coach Marco Ianni gave as good as he got after Ross Barkley's late equaliser against Manchester United, but it's rare to see Mourinho cowering like this. Two months later, he was out of a job.
Too much going on in here to get my head around. pic.twitter.com/6LicoditMR

— Tom Marshall-Bailey (@TomMarshall_B) October 20, 2018
Champions League heartbreak
The sight of three Ajax players sprawled on the turf after Lucas Moura's winner for Spurs was bad enough, but Paris Saint-Germain's heartbreak might be even more painful, purely due to the proximity of their players to the celebrating Manchester United players.
Indeed, it's hard to tell which is the winning side at first glance.
Renaissance art
It can be tempting to compare any 'busy' football photo to a renaissance painting, but these scenes from Man Utd's clash with Wolves, the battle between Leeds United and Aston Villa, and the Leeds away end after their play-off goal at Derby certainly count.
This truly looks like a renaissance painting. pic.twitter.com/FFgSbTPwTr

— Kristian (@vonstrenginho) April 3, 2019
The Leeds away end at Pride Park vs Renaissance art pic.twitter.com/fnG1aNJFHU

— Andy Ha (@AndyHa_) May 11, 2019
On the line
Paul Dummett's goal-line clearance for Newcastle United might not be the best of the season, but it's certainly the most photogenic.
Much will be made of Ritchie's 94th minute equaliser, but what about this clearance from Paul Dummett when the score was still 1-1?! 👀 #NUFC pic.twitter.com/fjxgNscgGG

— Andy Sixsmith (@SixsmithTV) March 16, 2019
At the other end of the scale, we've got to explain to our children and grandchildren that Eric Maxim Choupo-Moting was trying to score here for PSG but didn't.
In the wars
An injury to QPR goalkeeper on New Year's Day saw the Villa Park clock tick past 100, but it's rare we get such a great glimpse of the moment of impact in situations like this.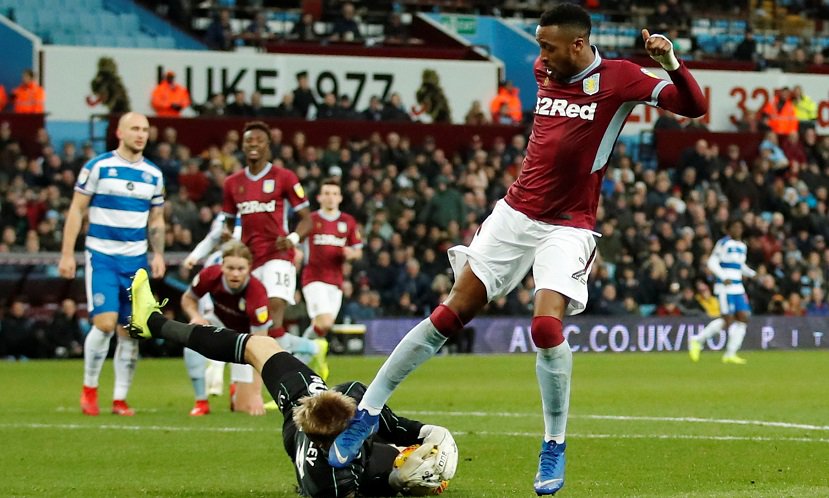 At the opposite end of the scale, we're not entirely sure what caused Salomon Rondón to pull this face.

The loneliest position in football?
At least Lumley got a bit of attention. Hugo Lloris on the other hand must have felt extremely isolated at this point after a costly mistake in Tottenham's loss to Liverpool.
Moments later he and Toby Alderweireld shared a stare into the abyss, each mimicking the other's "I've f**ked up" eyes without even realising.
As for Sven Ulreich, the Bayern keeper ended up so distraught he seemingly turned into his FIFA 19 avatar. At least he developed telekinesis at the same moment.
(via reddit)
To dye for
And finally, here's Wimbledon's Scott Wagstaff with hie beard dyed in club colours, thanks to a promise he made before the shock FA Cup win over West Ham. We wonder what's going through his head here.
---
Neymar has managed to pull off an even better version of a Rainbow flick
Can you name the 20 youngest players to appear in the Prem since 2000?
The six stages of Ajax's evolution into one of Europe's most exciting sides
The 14 Man Utd players sent out on loan this season – and how they've fared
---
---