Fernando Llorente shooting from the hip is what football needs right now
Trending
Fernando Llorente's Champions League performance had everything: a flukey goal, a striker's tackle and a reserve grabbing his chance. More, please.
Tottenham Hotspur are in the semi-finals of the Champions League because Fernando Llorente, a 34-year-old striker, this week eliminated Manchester City with what was only his second ever goal in the knockout stages of the competition.
To score it, he used body parts that weren't feet or a head.
The debate will rage on, boringly, about whether the goal should have stood. At this moment, social media is saturated with slow-motion replays of the Spaniard's rippling forearm.
At the same time, big (ish) questions are being asked. Why didn't VAR use this angle? How was the movement unintentional if Bernardo Silva's touch was deliberate? Has VAR made football better or worse?
Maybe those questions are valid; maybe they aren't. That's Man City's business, but for the rest of us there are more important things to focus on.
Important things like how Llorente, who has occasionally been found knocking on the door of the Soldado-Janssen club of cursed Spurs strikers, has become an instant cult hero. Like how an ageing reserve player has stolen the headlines in the absence of one of the world's best strikers. Like how a perilously slow striker briefly ended up at left-back.
VAR may have been Wednesday's key player, but by scoring Tottenham's winning goal, the big and blue-eyed Llorente has shown how absolutely anyone can be a hero in this season's weird and wonderful Champions League.
For that and more, he's done the game a huge service.
A great goal for great times
First and foremost, it should be noted that Llorente's carefully placed body-goal is, without the doubt, the best strike of the 2018-19 Champions League.
It is the Gareth Bale overhead kick of this year's edition. The Zidane volley of Tottenham's European adventure. It is a goal that Harry Kane will wish he had scored with his own large quadriceps.
Not that it was beautiful in the traditional sense. A long-range wondergoal this was not. Skill and guile Llorente did not demonstrate.
No, the year's most high-profile thigh-in was something else: the perfect distillation of an end-to-end 'seven-goal thriller' in which very little made sense; a perfect snapshot of football in the era of video assistant refereeing.
The Llorente goal was brilliant because it showed how, even with the slow-motion replay rolling back and forth dozens of times in front of referee Cuneyt Cakir, this technologically augmented version of football ultimately remained football as it always had been: random, marginal, hard to see in black and white.
Even your boys on Twitter, knee deep in Windows Movie Maker and zooming in on Llorente's undulating bicep, couldn't prove whether this was a handball or not.
You can literally see where it has hit Llorente's arm. What's the point of VAR?? #Var #championsleague #cityspurs pic.twitter.com/2tHJRIRdk2

— Bradley Earl (@bradn95) April 17, 2019
That Cakir finally confirmed the validity of the goal with a gesture that can only be described as an 'irritated shrug' was brilliant in itself, a glorious moment worth a million topless Ronaldo poses.
Llorente, without doubt, has scored the Champions League goal of the season.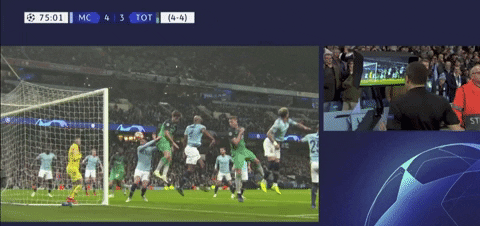 Hard to explain
That being said, Llorente's controversial winning goal wasn't even his best contribution of the match. Peak Llorente, peak madness, peak football came 18 minutes prior, when the Spaniard — for reasons not yet known — ended up in the left wing-back position.
Even more than his thigh goal, Llorente's brave covering of the far touchline, while Danny Rose was back alongside his centre-backs, truly demonstrated the backs-to-the-wall graft of Tottenham and, more importantly, the overall nonsense of the tie.
In his only contribution from that position on the field, the cumbersome six-foot-four striker had a go — a very fair go — at tackling the five-foot-eight Bernardo Silva, one of the most skilful players on the pitch.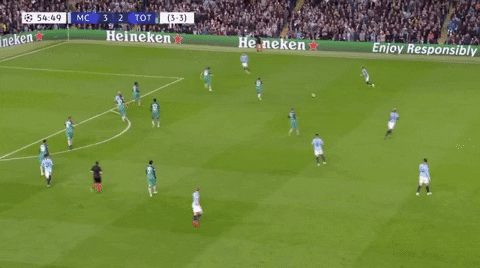 It went more or less how you'd expect.
This admirable positional adventure, a move that culminated in a foul that nearly led to a headed goal from David Silva (yet more nonsense), basically tore up the rulebook. If things like this can happen, can't Spurs win the bloody thing?
Note, please, how Llorente shoots and tackles with his thigh.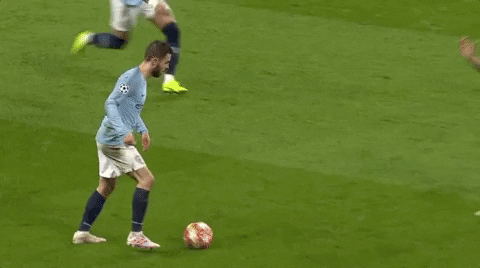 At the end of the day, regardless of whether Tottenham can progress further in the competition, that brilliant quarter-final and Llorente's role in it provided unquestionable proof that:
Anything can happen
Anyone can make it happen
Any body parts can be used by anyone to make it happen
The game-changing contribution from the rarely scoring, sparingly used Spaniard should have you on your toes for the semi-finals, for the final, for the rest of footballing eternity in which referees — fingers poked into ears, eyes glued to the screen — are really just as helpless as they always have been, and in which the least likely substitutes will emerge as the most feted heroes.
Be on your toes — or your thighs.
---
Nine times Son Heung-min has stepped up for Spurs in Harry Kane's absence
Can you name every player to score in the Champions League for Spurs?
Harry Kane's not just a world-class striker, he's also a brilliant playmaker
15 Spurs academy graduates playing elsewhere in Europe's major leagues
---
---