Villarreal have won the lottery with the reborn Santi Cazorla & we're so happy
Trending
When Santi Cazorla signed for Villarreal last summer, beginning his third spell with the Valencian club, the promise of a late-career renaissance seemed too good to be true.
After two years without a game, Cazorla, then 33, was surely not expected to contribute much to the cause.
To a critical observer, in fact, the transfer might have seemed motivated by something approaching sentimentality.
After going under the knife countless times to fix a gruesome Achilles problem, the Spaniard was desperate for one last chance to flex his pieced-together Frankenstein foot; Villarreal were kind enough to give him that chance.
We've seen this kind of thing before, though. Between 2008 and 2011, England midfielder Owen Hargreaves spent the best part of three seasons out of the game with something called 'patellar tendinitis'. His knees, despite his claims to the contrary, were knackered.
So when Hargreaves' Manchester United contract expired in the summer of 2011, the opportunity fell to crosstown rivals Manchester City to offer him a heavily incentivised deal. Go on, they said, show us you're not made of glass.
City's motivations might have been less benevolent than Villarreal's, but the two transfers had parallels. Both involved a midfielder, presumed defunct, getting 12 months to prove why they shouldn't be turned into glue.
With Hargreaves, there were no surprises. After a promising start, the midfielder soon found himself back in the treatment room and was eventually released by the club after four appearances.
But that was the nature of the transfer: City didn't kid themselves into thinking they'd made a sound investment; they knew they were buying a scratch card, a one-in-a-million chance of scraping away the grey latex to reveal a world-class defensive midfielder underneath.
When they ultimately didn't? No matter.
Spanish gamble
It's not clear to what extent Villarreal thought they were getting a fully fit Santi Cazorla, but initial signs suggested they were just being nice to an old mate.
In fact, the player was initially welcomed back to the club to use the training facilities and nothing more.
"Santi Cazorla returns home," Villarreal said in a statement in June. "The Asturian footballer will spend the pre-season with the first team of Villarreal with the aim of recovering from an operation."
In the end, Cazorla managed to impress coaching staff over that period, earning himself a one-year contract.
But you can be fairly certain the club weren't expecting their former hero to start more than three quarters of their 2018-19 league games. There's no way they foresaw the playmaker, theretofore a "jigsaw puzzle" (his words) of half-broken pieces, starting the club's last 14 league matches and playing the entire 90 minutes in all but two.
Villarreal, to everyone's surprise, dug their €1 coin into a Fruity Fortune card and uncovered three big, juicy Valencian oranges. Their gamble paid off handsomely.
Cazorla's unlikely renaissance began at the end of August, not long after Villarreal unveiled their new-old player with a bizarre, magician-themed presentation ceremony.
Yet when the midfielder made his first competitive appearance in nearly two years there was nothing tacky about it. Better still, he continued to play well over the following few weeks.
But we'd seen this much before. Even Hargreaves was capable of stringing a few appearances together in 2011. It's one thing to make it onto the pitch; it's quite another to last a gruelling top-flight season.
Cazorla, however, kept going. With his surgically reconstructed leg — now partially comprised of skin peeled from his arm — the midfielder found his groove sooner than anyone expected, only occasionally dropping out of the side.
But it wasn't until after Christmas that things got really impressive.
Jackpot
In Villarreal's first game after the winter break, Cazorla, now 34, scored his first league goals since returning in a remarkable 2-2 draw with Real Madrid. One was sweeping strike into the corner, the other a game-saving header.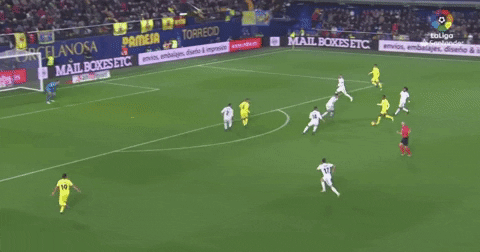 Since then, he has started every one of Villarreal's La Liga matches, adding two more goals and three assists in that time.
On Tuesday night, he put in one of his best performances since his comeback, orchestrating play in Villarreal's epic 4-4 draw with Barcelona, slipping passes through the Catalan backline like a scalpel through infected bone mush.
Had Villarreal defender Álvaro González not been sent off late in the second half, Cazorla's side would surely have come away with all three points.
Points, incidentally, are the one thing missing from this remarkable redemption story. While Cazorla has been brilliant, those around him have struggled to keep up, leaving Villarreal dangerously close to the relegation zone.
This is a confirmed fairytale come what may, but it may yet end with Cazorla slipping out of La Liga.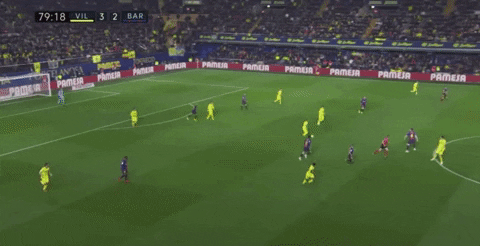 While Villarreal fans may be too distressed about their precarious league position to fully enjoy the redemption story, Arsenal fans, too, may be experiencing something akin to an emotional tug of war.
Because while they will be happy to see a popular former player overcoming a horrible injury, they might feel a tad jealous that Villarreal are extracting world-class performances from a 34-year-old who looked dead and buried in north London.
There wasn't much Arsene Wenger could do as the gangrene spread through Cazorla's tendon, but the situation does nothing to dispel the theory that the Emirates is a hospice where bones and connective tissue go to die.
"This was a complex medical situation," said a defensive Arsenal spokesman in September — after Cazorla suggested that British doctors made some massive cock-ups.
Wherever Cazorla goes from here — Euro 2020, perhaps? — his rebirth serves as encouragement to injured older players, and to clubs umm-ing and ahh-ing about whether to take a chance on them.
After all, if you don't buy a ticket…
---
Watch: Villarreal score unfathomable goal in amazing 4-4 draw v Barca
Can you name every club in this year's Bundesliga, La Liga & Serie A?
A tribute to Juan Roman Riquelme, one of football's best and truest No.10s
Eight reasons why Arsenal supporters will always love Santi Cazorla
---
---